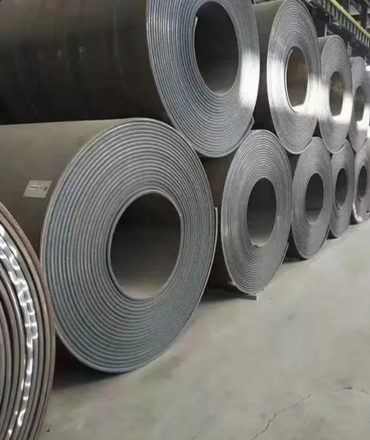 Welcome to International Loha Bhandar Pvt. Ltd. We are the Distributor of HR Products – Coil/ Sheet/Plates, etc in wholesale as well as retail. We are currently focused on supplying our clients across NCR and Rajasthan with the best quality HR steel products available. We are associated with the best steel manufacturing company - TATA Steel Ltd. - to serve our clients' requirements with trust and efficiency. We employ more than 50 handpicked personnel, qualified at the highest levels to continue meeting and exceeding the standards of the industry.
WITH MORE THAN 25+ YEARS OF EXPERIENCE IN THE STEEL INDUSTRY
We are one of the leading end-to-end HR Product distributors
Here is our journey so far...
Strengthening the competitive edge and standardizing the processes
Massive Inventory Deliveries: Keeping Industries Moving with Our Steel Distribution Services
Solutions to the challenges of the evolving industrial needs
Whether our clients require small or large quantities, our team is always ready to deliver in timely manner. This ensures that our clients have the materials they need to stay competitive in their respective industries. With our strong commitment to quality and service excellence, we are a trusted partner for businesses seeking reliable and efficient steel products.
Sales deliveries in '000 MT
Metric tons annual capacity
From Start to Finish, We Have You Covered!
Discover Our Extensive Product Portfolio: Meeting All Your Needs with Quality Solutions
Discover the strength of
TATA Steel

for your next project - Trust the expertise of an authorized distributor.
Our satisfied clients encourage us with their words and inspire us to work better every time.
Mr. Saurabh Bansal
ILBPL has been an invaluable partner in our solar panel manufacturing business. Their expertise in steel selection and their commitment to quality have been critical to our success. Their team is always responsive and helpful, and we trust them to deliver the steel we need, when we need it.
Mr. Kamal Singal
We have been dealing with ILBPL for our tube manufacturing for some years now, and we have been consistently impressed with the quality of their service. Their consistent supplies of Tata Steel Material, has helped us create strong and durable tubes that meet the needs of our customers. Their service is exceptional.
Mr. Harish Chand Jain
ILBPL has been our trusted partner for our steel requirements for years. They understand our specific needs for tube manufacturing and always provide us with the right steel grades and sizes we require. Their quality and consistency are unmatched, and we appreciate their dedication to our business.
Mr. Prabh Jyoti Singh.
As a vendor of a leading heavy machinery manufacturer, we rely on our suppliers to deliver high-quality steel products on time and at a competitive price. ILBPL has consistently met and exceeded our expectations, providing us with the right steel grades and sizes we need for our projects. Their customer service is also top-notch
Get the latest exclusive offers, product releases and much more!